Don't Play Ball: Four of the Worst Baseball Stadiums in America
On August 4, 2007 I attended a baseball game at Yankee Stadium. It was hot, sticky, and my ice cream cone melted all over my hands. Alex Rodriguez hit 500 home runs that day and I was unimpressed. In 2009, I was just starting my college search. Somehow I ended up in the admissions office of a school in Boston. As I awkwardly waited for a tour of the school, I watched ESPN on a large television in the office. There was a press conference with Alex Rodriquez, who admitted to using steroids in his baseball career. As I looked around the room, it became clear I was the only New Yorker, as I was the only one not making crude gestures at the screen in the middle of an admissions office. Now it is June of 2013 and I am wondering how it is possible that Alex Rodriquez still hasn't gotten his act together.
The most recent news in Major League Baseball is that Rodriguez, along with twenty other MLB players, will be investigated in the coming weeks for the use of steroids and performance enhancing drugs. My concern is not so much the steroids, but more directed at the fact that Americans are still as infatuated with baseball, even when the players are sub par and the stadiums are even worse. Dedicated fans still sweat away in hard seats while drinking overpriced beer, all to enjoy at a day at the ball field? I think not. Here is a list of the five worst stadiums in baseball, that will make you rethink your choice in sporting events:
Hubert Humphrey Metrodome
Minneapolis, Minnesota
Home to: Minnesota Twins
Why you should never visit: I hope you don't like sunshine because the Metrodome is exactly what it claims to be: a dome. Who wants to sit inside when they are watching a game notoriously played outdoors?
Fenway Park
Boston, Massachusetts
Home to: Boston Red Sox
Why you should never visit: This park has some very mixed reviews. Some love the traditions demonstrated by the obnoxious fans, others think the Red Sox fans are, well, obnoxious. Regardless of the rich heritage supporting the Red Sox team, the townies are not worth the trouble parking in this city.
Yankee Stadium
Bronx, New York
Home to: New York, Yankees
Why you should never visit: There is nothing wrong with Yankee Stadium except the surrounding area, the traffic, the price of anything (starting with the admission ticket), and the overly hyped experience fans get there. This whole article started with disdain for Alex Rodriguez, so let's continue bashing on the Yanks…
Tropicana Field
St. Petersburg, Florida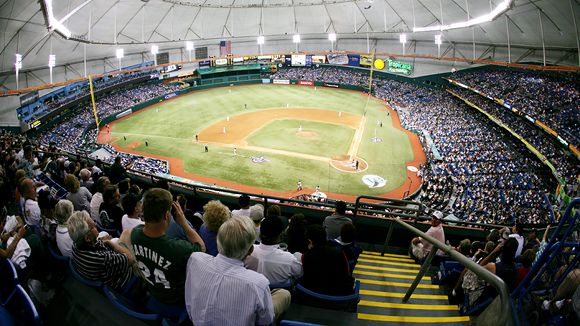 Home to: Tampa Bay Rays
Why you should never visit: Aside from having a similar structure to that of Hubert Humphrey Metrodome, Tropicana Field takes swift action to kick any fans heckling the other team out of the stadium immediately. My best advice, if you dare visit Tropicana Field, watch your alcohol intake.
So, as a summer of baseball starts for all the fans, and maybe ends for some of the players, think twice before wasting a day at one of America's wretched ballparks. Because baseball sucks.
---