Yahoo Weather App Pairs Forecast With Awesome Flickr Photos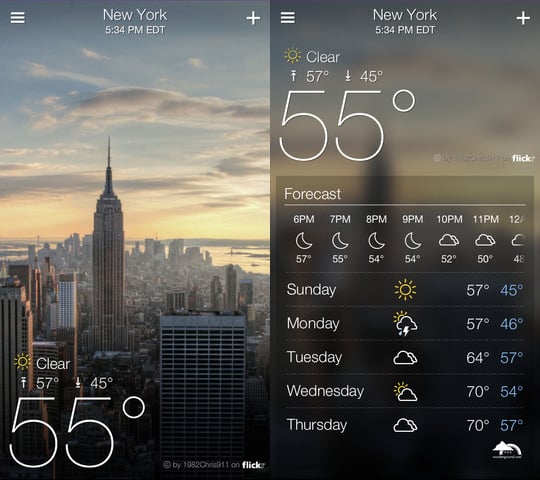 Growing up in Michigan, I learned to never trust the weatherman. The state has notoriously fickle weather, and 70% of the time that the pasty white guy standing in front of a green screen said the forecast looked summery, it would start snowing in a matter of hours. Such was the life in America's High Five.
Nowadays I'm more accepting of weather reports (thanks to advances in technology and a swift escape from that ass-backwards peninsula), and like everyone with a smartphone and three marbles in their head, I've become accustomed to checking a weather app before heading anywhere in the world. While I usually just use the program that came with my phone, I recently discovered the Yahoo weather app and it's blowing my mind. Seriously, I don't even care if it gets the forecast wrong, I just want to look at it.
The reason I'm so jazzed about something as simple as a weather app is because Yahoo has teamed up with Flickr to pair forecasts around the world with awesome, high-def photos curated by the people who live in the locations. For example, you'll be told that it's a beautifully clear night in New York City with a gorgeous photo of the star-backed skyline behind the report. If it's raining across the rolling green hills of the south island of New Zealand, you'll see a sprawling view of soaking wet emerald grass taken by a local sheep herder with high speed internet access. And so on and so forth.
All of this amazing visual content is sourced from Yahoo's "Project Weather" Flicker group, and they're always looking for help to stock up on quality shots of various weather patterns around the world – meaning one of your photos could wind up being seen by millions who use the app. They're even nice to properly credit each image with a link back to your personal Flickr account so people who love your image can tell you so directly.
From Yahoo's blog post announcing the app update:
Our goal is to have amazing photos for every weather condition that cover the globe — morning, afternoon, and night — across every city in the world, and we want your help. Whether you're simply a daydreamer or an avid photographer, submit photos of your favorite places to our Flickr Group and your image can be seen by tens of millions in Yahoo! Weather for iPhone.
I've already announced to the world that I'm a piss poor photographer, so I clearly won't be joining in the collaborative fun. But I will be keeping my eye on the app to see where the sun is shining across the globe, and feeling pangs of suspicion whenever it tells me to leave the house with an umbrella.
---
---